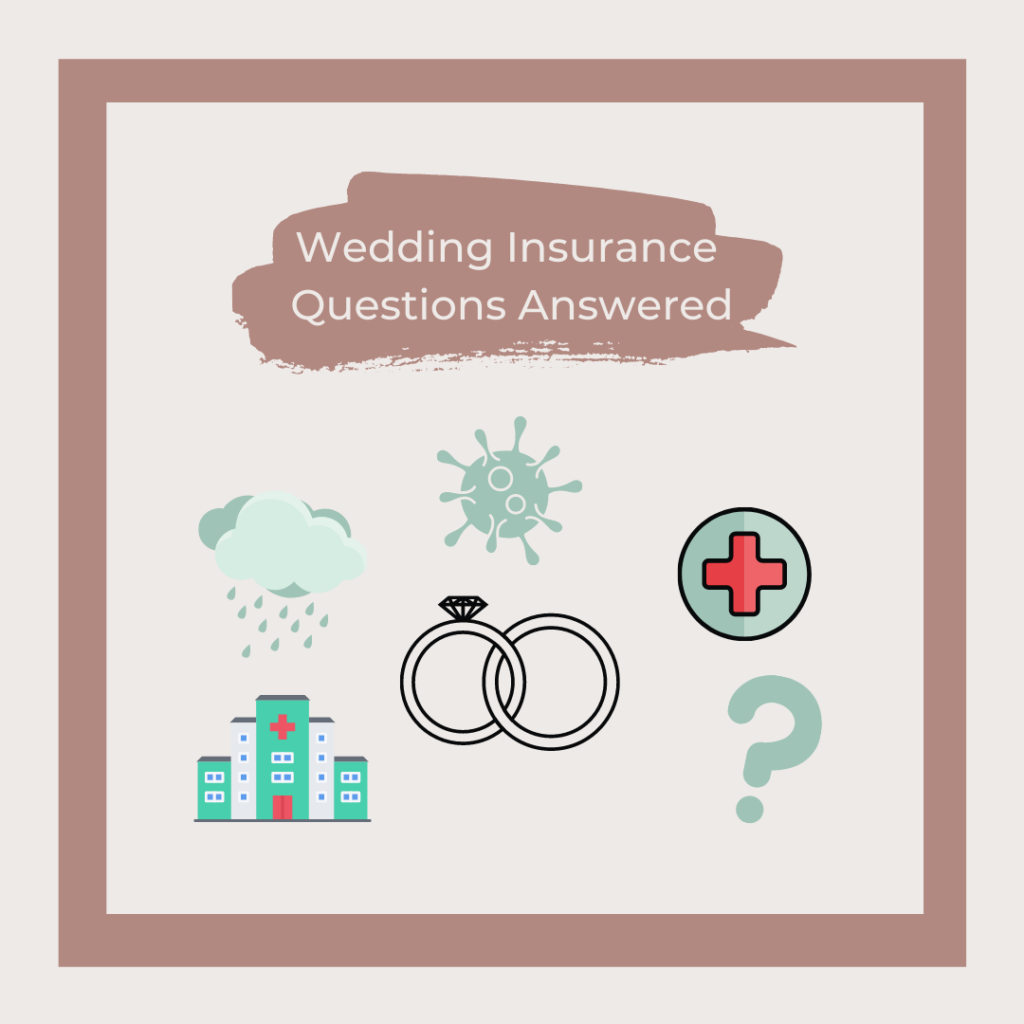 A client's wedding day is often the most expensive day of their lives. Weddings can have budgets ranging from tens of thousands of dollars to several million of dollars. As event planners, we guide our clients to protect their financial investments from circumstances beyond their control.
Event and wedding insurance can offer valuable protection to couples from unforeseeable situations such as venue or vendor cancellations, injuries or property damage at the venue, or sudden illness or accidents that can derail an event. With event postponements and cancellations on the rise due to complications of the coronavirus pandemic, more and more couples are looking into wedding insurance for their big day. In this post, we will cover the different types of event insurance and what they cover, how COVID-19 factors into coverage, where to get a policy, and how much to expect to pay for it.
Note: This article is meant to provide insight into the wedding insurance industry. However, wedding insurance policies – especially during the coronavirus pandemic – vary greatly, so there aren't all-encompassing answers to the below questions. If you are considering purchasing a policy, please contact a registered insurance agent.
Types of Insurance
There are typically two types of wedding insurance you can request: liability and cancellation. In this section, we will discuss the details of each, and what scenarios they may cover.
General Liability Insurance
General liability is a policy type that couples may be more familiar with – it covers any property damage and bodily injury that may take place at the venue. This type of policy protects clients from incidents that are often caused by guests or vendors, that the client could be found responsible for. For example, if someone spills a drink on the dance floor area and another guest falls and injures themselves, a general liability policy would help cover any associated medical expenses. Similarly, if a couple's decorator happens to scrape a banister while executing a decor installation, liability coverage would protect the couple from sudden repair charges from the venue. It's important to remember that a coverage limit will apply. Read the policy details closely to find out what kinds of scenarios the insurance does and does not cover.
While most venues have their own liability insurance policies in place, it is not uncommon for venues to require clients to purchase a liability insurance policy in order to host their event. In our experience as event planners, we typically see contracts from venues that require a policy with a total of $1 million in general liability coverage, with the venue listed as co-insured. The premiums for this type of coverage vary depending on where the event takes place, but this amount of coverage is fairly standard amongst insurance providers and usually only costs a few hundred dollars.
Cancellation Insurance
Cancellation coverage, which may also include postponement, protects couples' investments if they have to cancel or move the date on their wedding, or if vendors or venues cancel on them. This coverage also applies to cases in which a partner or close family member dies suddenly, develops a non pre-existing medical condition, or is unable to attend the wedding due to circumstances outside of their control such as military deployment. In these situations, couples can make claims to cover lost non-refundable deposits up to a certain dollar amount pre-determined at the time of purchase.
We urge couples considering cancellation coverage to read the terms of their policies very carefully, because they often outline situations in very specific terms. For example, many policies exclude coverage in cases of civil unrest even when they are declared state or federal emergencies, but might cover cancellations due to weather events if they are declared a statewide emergency. Similarly, many policies cover loss, theft, or damage to the couple's wedding rings during the event, but won't cover engagement rings as they are considered "special jewelry" This is where it is helpful to understand what add-ons may be necessary to cover all the details of your event. Some covered items to look for – or consider purchasing add-ons for – include: whether an event is covered in case of postponement, loss of wedding photos or videos, coverage for special gifts, jewelry, or attire, and professional counseling in cases of extreme distress associated with cancelling or postponing the wedding.
COVID-19
With the COVID-19 pandemic causing increasing wedding postponements and cancellations due to couples' health concerns, couples have been looking into wedding insurance more often. More specifically, couples are interested in learning what coverage they may receive if their wedding is impacted by the pandemic.
The answer to this question varies depending on the purchase date on the policy. If the policy was purchased before the pandemic began, the terms of the policy may include situations related to the pandemic. In the past year, however, insurance companies have significantly adjusted their policies to exclude coronavirus as a covered cancellation or postponement reason. This is because COVID-19 is no longer considered an unforeseeable circumstance: couples planning weddings at this time know that there are risks associated with the pandemic, and that it is impossible to predict when the risks will subside. If you've already purchased a policy and you're wondering if it covers your situation, check the terms of your initial contract or speak to your insurance agent.
The coronavirus pandemic has created ripples in the industry overall, too. An increasing number of insurance companies are declining new cancellation insurance policy inquiries outright during this time. Others have significantly decreased their coverage amounts. While these types of policy changes cannot usually be bypassed, we recommend that couples thoroughly research their options before discounting the possibility of finding cancellation and postponement coverage.
How much does insurance cost?
The overall cost for wedding insurance coverage will vary based on a number of factors. The policy type (liability, cancellation, or both), the total budget for the wedding, the coverage amount couples want, and even regional cost differences are all factors that can impact the price of the insurance package.
There are, however, certain price ranges that are available online for general estimation purposes. A standard general liability insurance policy with $1 million coverage costs an average of around $185. A cancellation policy can range from $155 to $550 depending on the coverage amount and add-ons couples wish to purchase.
Where to get it
When it comes to providers, there are many options for couples looking to purchase event insurance policies. Most major insurance networks, such as Allstate, have some sort of event coverage options. For couples looking for highly specific policy add-ons, companies that deal specifically in wedding insurance such as WedSafe may be a better bet.
While there are many options out there, below you will find a list of some reputed wedding and event insurance providers:
Nationwide
Allstate
Travelers
USAA
The Event Helper
Travelers
WedSafe
Wed Sure
Another often-overlooked option is for couples to ask for event coverage through their existing homeowner's, renter's or automotive policy providers. They may have event insurance policies available, and if you have built a long-term relationship with the provider, they have a vested interest in maintaining it. This could mean that they offer an event insurance policy as a rider – an add on to an existing policy – to your other insurance products with them. They may also offer competitive rates or add-ons, or they might offer to allow you to purchase a cancellation insurance package under circumstances such as the pandemic, when it is otherwise uncommon. Whether it ends up being the best option or not, we always recommend that our clients ask their insurance agents just in case.
Concluding Tips
If you're considering getting event insurance for your wedding, we recommend exploring several options and discussing the terms of your contract with an insurance agent in-depth before buying. Since policies can vary so much, there's no one-size-fits all, perfect policy. Asking questions about scenarios specific to your event, such as if certain family heirlooms you're incorporating into your day are protected, is a great way to gauge if a particular policy is a good fit. Ensuring that your needs are covered can be complicated, but can be a great way to put your worries to rest.