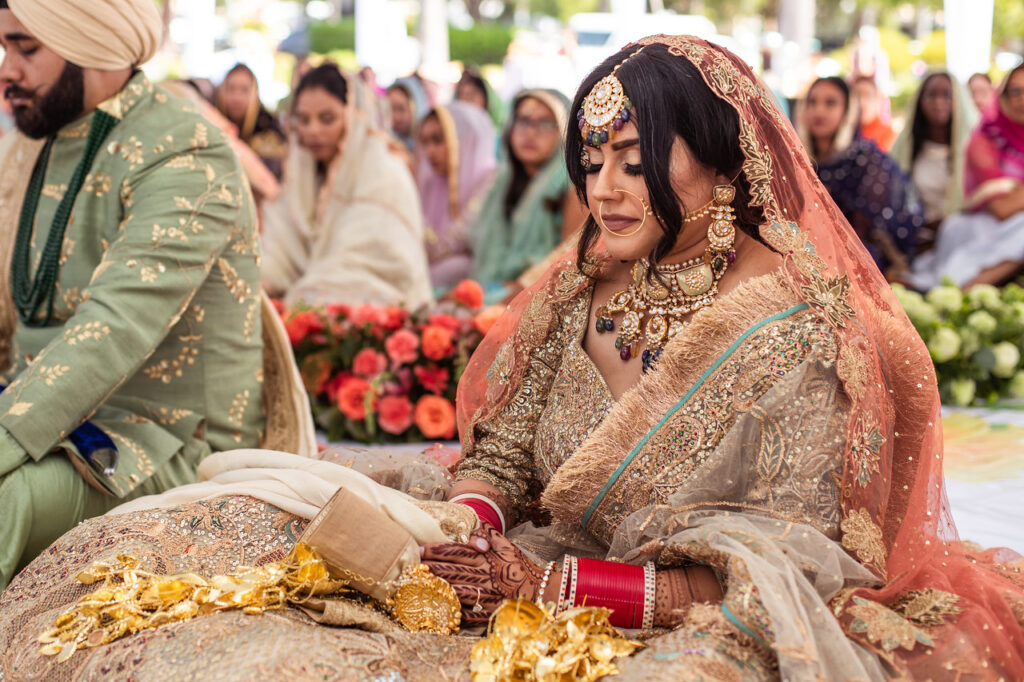 In 2020, we saw our clients make major changes in the way they approached their weddings. From postponing weddings to protect their guests' health, to creating memorable, love-filled reduced guest count weddings with strict safety precautions. We have referred vendors to our clients who could livestream their ceremonies to their guests from afar; worked with decorators to transform our clients' homes into beautiful, safe venues; even suggested designers for all-digital invitation suites. Through all the changes, we have been in awe of how our clients have adjusted to these trying times.
For our South Asian clients in particular, Coronavirus has created a unique issue. Typically, many of our South Asian clients plan to travel to their home countries to have their most ornate wedding outfits custom made or sourced "off the rack" from their favorite designer. Others who might not want to travel, but want the option of working with specific artisans or designers in South Asia, have submitted measurements to their preferred vendors to have their outfits shipped to them. The pandemic has brought these plans to a halt, with travel restrictions making it difficult to visit South Asia, and new coronavirus-related customs restrictions causing major shipping delays to orders arriving from overseas.
Here, we have compiled a list of online vendors for the couple's wedding outfits and guest semiformal and formalwear. From custom bridal lehengas, saris, and suits to ready-to-wear stitched outfits for pre-wedding events, these providers cover multiple cultural styles, and have something for every budget. Each of these vendors have something unique to offer: some are local designers who create their own pieces and maintain their stock domestically, while others are retailers that import designs from different artisans, seamstresses, and even famous designers in South Asia, and help their clients select pieces that fit their visions. Most of these vendors, however, are able to help their clients design custom outfits and have them made while adhering to the unique COVID-specific requirements currently in place to get everything in time for the big day.
Scroll through this post to learn more about each company and what services they offer. We have provided photos and links to each vendor's website or instagram profile so our readers can get a feel for each of their unique styles. Wherever possible, we've also included anecdotes on our own experiences with these providers via our clients.
Luxury Online Bridal Wear: Worldwide
With trips to home countries cancelled and complicated new customs regulations complicating shipping and delivery processes, many of our clients have been struggling to find clothing for their wedding ceremonies and pre-wedding events. We have compiled a list of reputable luxury online bridal wear providers below to help our clients – and readers – find the perfect outfit for their special day.
Most of these retailers provide options that can be custom-tailored to buyers' measurements, or ready-to-wear garments, and others may also be able to create custom outfits with their clients. We've specified whenever possible where each of these retailers are located, so our clients with shorter timelines to their wedding days can opt to buy more locally as needed. When listing retailers located in other countries, we made sure to recommend only retailers that have large-scale shipping operations, so we have more confidence that they have adjusted to COVID-related shipping restrictions.
This famous Indian designer has a New York store, located in West Village. Anita Dhongre's designs range from simple dyed pieces to elaborately embellished bridal outfits. Couples interested in sustainable clothing may be excited to learn more about Anita Dhongre's grassroots collection, and the initiatives the brand has taken to empower their artisans. Working with the New York store directly to purchase pieces available in-store offers a faster shipping experience that may be helpful for couples on a shorter timeline.
Megha Rao has created a line known for punchy colors and Desi-western fusion looks. Her unique style has led to the creation of several new trends in the fusion fashion space. HoliChic carries several ready-to-wear pieces at varying degrees of formality, and also offers custom design consultations.
Poonam's Kaurture is a made-to-measure South Asian fashion brand based in Canada and sourced from India. Their bridal designs range from simple and modern to classic, heavily embroidered looks. While they don't currently offer custom pieces on their site, their vast selection of shararas, anarkalis, lehengas, and suits cover nearly every style imaginable.
Mani Jassal carries designs that appear to be straight out of a fairytale. Soft colors, heavy detailing, and modern silhouettes are hallmarks of this brand's signature style. Mani Jassal is available for both custom pieces and ready-to-wear items.
This Mumbai-based retailer carries pieces from sought-after modern designers all over India. Pieces from Ridhima Bhasin, Shivangi Jain, Tarun Tahiliani, Anushree Reddy, and more are available through their site with custom tailoring options, or as ready-to-ship pieces in some cases.
WellGroomed Inc is a Canadian South Asian fashion brand, with established boutiques in Toronto, and a newly established boutique in Newark, CA. WellGroomed is considered a luxury provider, and they are known for their robust custom design process. Their ready-to-wear collections feature gowns, lachas, anarkalis, lehengas, sherwanis, and achkans, which make them a great option for multiple events with varying formality.
Kalki Fashion is likely the most affordable option of our online luxury retailers. They carry some less formal bridal options that can cover pre-wedding events, as well as more formal bridal lehengas. The range of styles at different price points means multiple options are accessible to couples with different budgets.
Another Mumbai-based brand, Luxie Couture carries pieces with hand- embroidered and embellished designs. Custom stitching is included in the cost of all their pieces, and shipping is free worldwide. Their readymade pieces ship out from Canada and are shipped much faster than made-to-order pieces, which is a plus for couples quickly approaching their wedding dates.
While our clients haven't purchased from this shop in the past, this is a solid choice for clients looking for Pakistani designs, shapes, and embroidery work. This retailer is based in Lahore, but has a boutique in Texas as well. Like some other retailers, they manage their orders through messaging rather than a website, but their portfolio of designs is available on their Instagram profile.
10. Sushma Patel – Atlanta, Georgia, USA
Sushma Patel is an Atlanta-based brand known for unique designs. Most notably, their tiered voluminous lehenga skirts set their vision apart from other designers. Sushma Patel has a robust custom design process, from initial consultation to discuss color, fabric, and detail, to the delivery of the finished piece. They also have a range of ready-to-wear styles available for purchase.
Jewelry
While many of the vendors and brands listed above also carry stock of wedding jewelry, couples may also wish to find wedding jewelry from a jewelry retailer. Buying from a retailer may mean more styles and options available, including different grades of gemstones and precious metals for couples – and their guests – with different budgets. Below, you will find two trusted retailers our clients love.
This online retailer is based in India, and they are a highly reputable brand that is known for their high end bridal pieces. The range of designs available on the website has appealed to several of our clients in the past and make them an appropriate choice for finding pieces to accompany any bridal look.
IndiaTrend is another online retailer that carries a variety of South Asian jewelry looks. Their pieces range from costume jewelry to genuine pieces, which makes them a suitable option for couples with any budget, and even guests who would like to purchase new pieces for the events they are attending. Their vast selection of designs ensures that customers can find pieces to match their style.
Online Guest Formal and Semi-formal Attire Retailers: Worldwide
When creating wedding invitations and a custom wedding website, it is customary to specify a dress code for each event. For South Asian and South Asian fusion weddings, invitations may include some or many events for which guests are expected to wear South Asian clothing. We've found that even in situations where cocktail attire or South Asian formalwear are options for a particular event, guests love having the opportunity to try something new and wear ethnic clothes to honor the couples' heritage on their special day. Whatever the situation may be, finding appropriate attire may present a challenge for guests who don't have a selection of South Asian outfits at home.
For that reason, when guiding our clients through their wedding website creation process, we often encourage them to create a tab dedicated to listing places their guests can shop for affordable South Asian formalwear. Providing options makes it convenient and easy for guests to participate in all the fun of dressing up in South Asian clothing for wedding festivities.
1. Lashkaraa – Los Angeles, California, USA
Lashkaraa is based in Los Angeles, and offers chic, stylish outfits at affordable prices. Full suits can start at around $80 at the time of writing. They have pieces that are appropriate for all events, including less formal pre-wedding events.
Utsav Fashion is another popular retailer that has formal and semi-formal South Asian clothing for reasonable rates. They carry classic pieces like saris, anarkalis, and salwars, as well as contemporary Indowestern outfits for a more fusion feel.
Kalki, which also appeared on our bridal vendor list, is one of the more luxury retailers on the guest wear list, with genuine silk outfits available at slightly higher price points. They also carry pieces from several designers, such as Lucknowi Noor and Jaipur Wonders. Kalki Fashion is a great choice for guests who are looking to invest in pieces they can wear again, or who want a fancier look.
C Bazaar is another very affordable retailer, and they set themselves apart with their selection of salwar sets (long tops, pants, and scarf sets known for being comfortable to wear) that have enough embroidery to be worn to a semiformal event. This is a great choice for guests seeking comfortable, ready-to-ship apparel that is appropriate for any event.
Comparable to Utsav or Lashkara, Mirraw is another retailer that carries ready-to-ship outfits. They carry many outfits with unique cuts, such as modern sari blouses with cutouts and unique details.
House of Indiya carries very modern, minimalist designs. Their outfits focus more on structure and fabric than heavy embroidery or embellishments. This option is great for guests with contemporary tastes, who want formal attire for a ceremony or reception.
7. Biba – India
Biba is perhaps one of the most well-known South Asian fashion brands. Customers shop with Biba for affordable fashion that comes in at reliable quality. Their pieces range from casual to relaxed semiformal, and would be appropriate for any pre-wedding events.
FabIndia has affordable staple pieces. Based in India, it's a go-to brand for cotton and block-printed pieces, with the ability to mix and match tops, pants, dupattas, and accessories to create the perfect look. While FabIndia does not carry more formal outfits that might be appropriate for ceremony and reception looks, they would definitely be a good option for more casual pre-wedding events.
Classic silk saris are an important part of many cultures across South Asia. For guests attending very traditional events for certain South Asian communities, these more traditional garments may be the most appropriate choice. Nalli Silk Sarees carries just that, and has patterns and embroidery that match the styles of different ethnic groups.
For guests who aren't able to find options they like elsewhere, or those who simply have a vision in mind that they'd like created for themselves, CustUmise is the way to go. Offering options at a lower price point than some luxury bridal providers, CustUmise is a great option for custom pieces for guest wear.
Saris and Things is another site providing South Asian formal and Semi-formal clothing for events. Saris and Things specializes in Indian clothing, but you will likely find styles that are appropriate for other South Asian events as well.